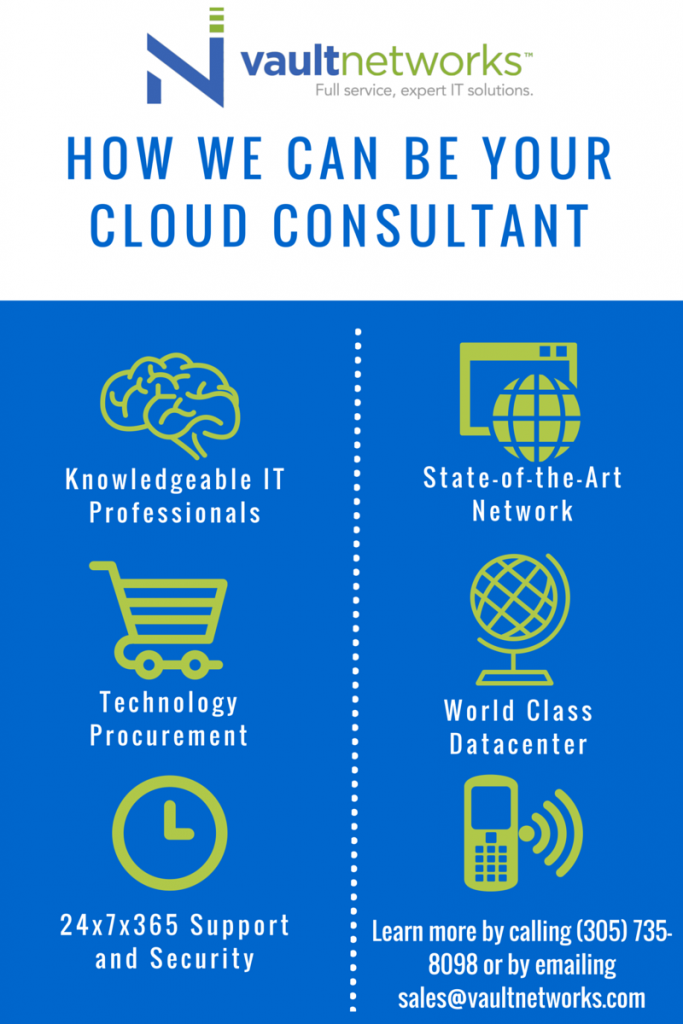 When working with any IT vendor, it is important to choose a vendor that you can trust to deliver the services that are promised as well as to be consultative solution to assist you in finding the best solutions for your needs.  Here at Vault Networks, we aim to be your Cloud Consultant in helping you to find the best way to improve and evolve your IT solutions, whether it is through colocation, dedicated servers or our vnCloud offering.  Of course, it is important to understand what makes us different and how we can make a difference in your business.  As your Cloud Consultant, we pride ourselves on:
24x7x365 Support – We understand that your business runs all day, every day, so if you have problems that need to be addressed at 3 AM on a Saturday, we have a technical team in place to assist you in getting those problems resolved, all the time. Customers have access to our tech support line as well as our ticket system to submit requests for assistance at any time of day.
24x7x365 Security – Our data center is protected at all times to keep our customers safe in the physical world. Our data center requires card key access and biometric access in order to access the data center, and all colocation customers with ¼ rack or larger have private rack space protected that only that specific customer can access.
Broad span of IT knowledge across multiple vendors – Our team is certified in a diverse spread of big names in the IT industry – we have employees certified to work with Dell, Fortinet, Cisco, and more!
Technology Procurement – We work with many leading vendors to support our Dedicated Server and Colocation customers, and because we have built strong relationships with them over the years we receive very aggressive pricing that we pass on to our customers. These vendors include but are not limited to:  Dell, Fortinet, OnApp, Cisco, Juniper, Server Technology, and more!
State-of-the-Art Network Connectivity – Our network was built from the ground up to keep our customers running. We use multiple tier 1 service providers and BGP routing to ensure that customers using our servers get the best possible latency with the least possible pack loss and jitter.
Complete Data Center Solutions – It doesn't matter if you need to colocate a single server or 100 of them – we will happily help you complete your data center project. Want to build a private line between your offices and the data center?  Let us know and we will work with you to find the best way to do so!
Over 12 years in the business of providing Cloud solutions – even before it was called cloud!
Strategic Location – Our data centers are in a unique, strategic location to help our customers service the Americas – it doesn't matter if you are looking to service the United States, Brazil, or Colombia, we are in the right place to get you a great connection to your audience.
We believe in what we offer, and to do so we offer free consultations to clients interested in our services.  For your free consultation, reach out to us by calling (305) 735-8098 option 2 or by emailing sales@vaultnetworks.com.