Miami Colocation Solutions Provided by Vault Networks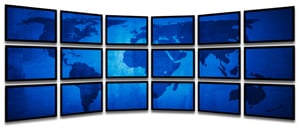 Located in one of the top five most interconnected cities in the world, Vault Networks' data center in Miami, Florida is a world-class facility engineered to be a secure, redundant colocation solution. Your servers are protected by our N+1 infrastructure, ensuring your systems are online 24/7.
Our Miami colocation facility is housed in a 99.999% mission-critical, SSAE-16 Type II data center. Clients can access our data center site 24/7. Vault Networks'certified engineers and technicians offer our colocation clients the highest level of hands-on customer service, enabled by our fully automated Network Operations Center (NOC).
Colocating your IT infrastructure at Vault Networks is a wise, low-cost solution: you receive the best services without the hassles of owning and operating your own costly facility. Colocation in Miami also positions you to expand your business into Latin America: less distance means less latency. Paired with our optimized network, the choice is clear.
Connectivity Colocation provides the increased connectivity and greater redundancy you need without the budget-busting costs of using T1 or DS3 lines to connect your networks.
BGP4 Routing There's no downtime: if one provider's connection fails, BGP4 allows instant failover and reroutes your critical data over a different path with an alternate provider.
Disaster RecoveryOutsourcing your disaster recovery to Vault Networks gives you peace of mind. If your primary IT system experiences downtime, the entire network will switch to a duplicate system at Vault Networks — at a fraction of the cost you would pay to handle your own disaster recovery.
Greater Network RedundancyVault Networks offers maximum uptime so your business-critical applications will always be up and accessible. We offer 11 network carriers whose fiber-optic lines terminate at our Miami colocation data center.
Regulatory ComplianceLocating or replicating your IT systems in a data center helps your company achieve compliance with Sarbanes-Oxley, HIPAA, federal banking regulations, SSAE-16 Type II, and other compliance standards.
Technical SupportWe take pride in offering you first-class customer service. Our certified engineers and technicians are available to assist you 24/7.
Service Level Agreement (SLA)We provide a strict SLA to ensure that you receive a consistently high level of service. In fact, we guarantee 99.999% facility and network uptime.
Experience We have years of experience managing data centers, so our on-site technical personnel have the deep IT knowledge to ensure your mission-critical systems run smoothly 24/7.
Contact us to schedule a data center tour, or request a colocation quote now.