vnCloud is loaded with features that speed up and simplify your cloud experience. Vault Networks has the tools to accelerate your business ahead of its competitors.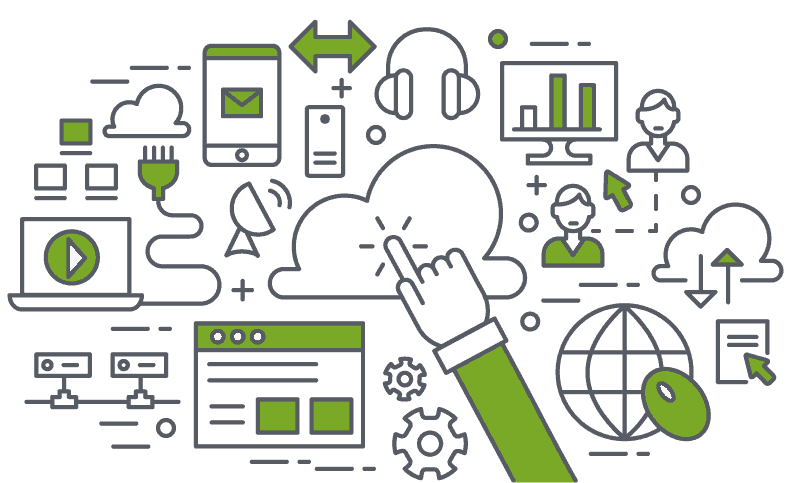 Top features and benefits
Public and Private IPs/Interfaces, Load Balancers, Bandwidth
Free incoming bandwidth
Public and private network interfaces
Static IP address
Unlimited private bandwidth free
Support for multiple public IP addresses
Network Security, Self-Managed Firewalls, Private vLANs
True, dedicated private vLANs for seamless connection of virtual and dedicated infrastructures
Anti-spoof/anti-sniff technology ensures that only authorized traffic is sent to/from cloud servers
Fully isolated network traffic
Self-managed firewalls
Secure client isolation, even in a shared hosting environment
Strong SLA, Helpful Resources, 24/7/365 Help
24/7/365 live support with certified engineers
Online case submission and tracking
Detailed vnWiki documentation
Thorough and updated Frequently Asked Question (FAQ) list
Generous SLA with comprehensive coverage
– Guaranteed RAM and hard disk space
– SAN-based storage with RAID and hot block caching
– Dual processors with 12+ cores per node
– Multiple Tier-1 redundant Internet backbone connections
– KVM-based virtualization
– Instant cloud provisioning
– Your choice of cloud server types, operating systems, and software packages
– Create custom images and rebuild servers from our extensive library of over 200 OS templates (VirtIO-enabled for top performance)
– Scale up to 8 processor cores
– Widest resource size range
– Web-based Control Panel
– Fast, Easy to Use, Includes Graphs & Logs
– Clear, easy-to-use actions, settings, and reporting
– Increase or decrease capacity within minutes, not hours or days
– Point-and-click provisioning of infrastructure
– Cloud server usage graphs
– Event/audit logs
– Infrastructure
– SAN, Redundant Infrastructure, Hypervisors
STEP 1: SIGN UP How much CPU, RAM, disk space and add-on services will your IT infrastructure need? How will you allocate these resources to each cloud server? Use our Virtual Data Center Designer to test different configurations and visualize your cloud infrastructure.
STEP 2: BUY YOUR RESOURCES Using our intuitive control panel, purchase the resources you'll need to build your company's cloud servers. The resources you buy are kept in your Resource Vault where they are instantly allocated to you, ready to deploy at any time.
STEP 3: BUILD YOUR CLOUD SERVERS Allocate your resources to cloud servers based on your priorities and the specific needs of your business — no guesswork, no waste. With just a few mouse clicks, your customized configurations will be ready to deploy.
STEP 4: DEPLOY YOUR CLOUD SERVERS In minutes, your virtual infrastructure is launched, fully functional and ready for business. Sit back and enjoy the freedom of efficiency.
Backups
Safeguard your business by protecting the critical files and applications on which you depend.
Free Global Unicast DNS
Configure and manage domains, FREE with any service on or off our network. We'll replicate them globally, making your websites respond faster.
Instant Scaling
Start small and quickly scale up or down as your business needs evolve. Whether you need extra capacity for peak demand or want to scale back during a slow season, vnCloud's simplified scaling empowers you to redefine your strategy instantly and in real time.
Your business is constantly presented with challenges, from cost control to globalization. We understand that slow, complex IT systems prohibit from you from turning your business ideas into reality.
That's why we built a platform that not only simplifies your route to the cloud but gets you there fast.
The Vault Networks cloud model, vnCloud, is an IaaS offering designed to give clients the flexibility and agility of cloud infrastructure, but under a subscription-based pricing model that eliminates the premium associated with utility pricing.
While pay-as-you-go pricing benefits consumers are unsure how many and which cloud resources they'll need (for a short term project, for example), most businesses have different priorities.  We designed a cloud service that can scale resources in real time–without busting your budget. If you need to reign in your IT budget and plan to use the cloud for heavy workloads and for long periods of time, vnCloud is the right cloud solution for your business.
What Is 'The Cloud?'
At its most basic level, the cloud represents a set of technologies that enable computing services (data, applications, software) to be delivered to end-users in real time via the Internet. This "cloud computing" allows them to access these services instantly using any device with Internet access. The end-users can also provision these resources on demand via a computer network, rather than from a local computer. Basically, any computer connected to the Internet is connected to the same pool of computing power, applications, and files.
Cloud computing services are generally divided into three categories:
• Infrastructure as a Service (IaaS) In this most basic cloud service model, providers offer consumers on-demand usage of virtual resources from their large pools. Consumers choose IaaS to build, configure and control virtual machines and data centers.
• Platforms as a Service (PaaS) This refers to the computing platforms and solution stacks in which cloud vendors provide the networks, servers, storage, tools and libraries which are used by consumers to create, deploy and control software.
• Software as a Service (IaaS) In the SaaS model, consumers do not manage the infrastructure or platform, but instead access application software that is installed and operated by providers through the Internet.
The Vault Networks Cloud Pricing Calculators below are available to help you estimate your costs.
WHAT ARE YOU WAITING FOR?
Excellent Service Awaits.
REQUEST A FREE CLOUD DEMO
Get a Demo of Vault Networks' Cloud Infrastructure Platform