Miami Colocation Solutions Provided by Vault Networks, Inc.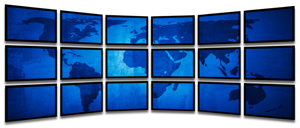 Located in one of the top five best interconnected cities in the world, Vault Networks' Miami data center is world-class facility designed and engineered specifically for secure, redundant colocation. Our N+1 infrastructure protects your servers and ensures you are running online, all of the time.
Our facility is a Tier 4, 99.999% mission-critical, colocation data center allowing 24/7 client access. Our certified engineers and technicians offer our Miami colocation clients only the highest level of hands-on customer service, enabled by our fully automated Network Operations Center (NOC).
Collocating with Vault Networks makes sound, long-term business sense because you receive the best services without the need of owning and operating your own costly facility.
Connectivity: Colocation provides the increased connectivity and greater redundancy you need without the prohibitive costs of using T1 or DS3 lines to connect your networks.
BGP4 Routing: There's no downtime because if one provider's connection fails, BGP4 allows instant failover and re-routes your critical data over a different path with an alternate provider.
Disaster Recovery: When you outsource your disaster recovery to Vault Networks, you get the security of knowing that should your primary IT system experience downtime, the entire network will switch to a duplicate system at Vault Networks — and all at a fraction of the cost you would pay to handle your own disaster recovery.
Greater Network Redundancy: Vault Networks offers maximum uptime so your business-critical applications will always be up and accessible. We offer several network carriers whose fiber-optic lines terminate at our data center.
Regulatory Compliance: Locating or replicating your IT systems in a datacenter helps your company achieve compliance with Sarbanes, Oxley, HIPPA, FED Banking Regulations, SAS 70 Type II, and other regulations.
Technical Support: Vault Networks offers the highest levels of dedicated service. Our certified engineers and technicians are available to assist you 24/7.
Service Level Agreement (SLA): We provide a strict SLA to ensure that you receive consistently high, guaranteed levels of service. In fact, we guarantee 99.99% facility and network up time.
Experience: We have years of experience in managing data centers, so our qualified technical personnel will help you keep your mission-critical systems running smoothly around the clock.
Contact us to make an appointment to tour our facilities to learn more about all that we have to offer.