What Is 'The Cloud?'
At its most basic level, the cloud represents a set of technologies that enable computing services (data, applications, software) to be delivered to end-users in real time via Internet. This "cloud computing" enables them to access these services instantly using any device with Internet access. The end-users can also provision these resources on demand via a computer network, rather than from a local computer. Basically, any computer connected to the Internet is connected to the same pool of computing power, applications, and files.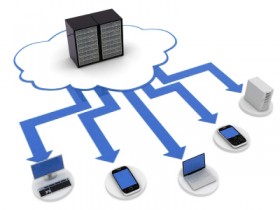 Cloud computing services are generally divided into three categories:
Infrastructure as a Service (IaaS)

In this most basic cloud service model, providers offer consumers on-demand usage of virtual resources from their large pools. Consumers choose IaaS to build, configure and control virtual machines and data centers.

Platforms as a Service (PaaS)

This refers to the computing platforms and solution stacks in which cloud vendors provide the networks, servers, storage, tools and libraries which are used by consumers to create, deploy and control software.

Software as a Service (IaaS)

In the SaaS model, consumers do not manage the infrastructure or platform, but instead access application software that is installed and operated by providers through the Internet.
vnCloud: Vault Networks' Cloud Services

The Vault Networks cloud model, vnCloud, is an IaaS offering designed to give clients the flexibility and agility of a cloud infrastructure, but under a subscription-based pricing model that eliminates the premium associated with utility pricing.
While pay-as-you-go pricing benefits consumers are unsure how many and which cloud resources they'll need (for a short term project, for example), most businesses have different priorities.  We designed a cloud service that can scale resources in real time–without busting your budget. If you need to reign in your IT budget and plan to use the cloud for heavy workloads and for long periods of time, vnCloud is the right cloud solution for your business.
Let our bilingual IT experts help you decide which cloud configuration best matches your needs. For a free 1-hour consultation about your IT infrastructure, call us at 1-888-694-8557 or chat live Monday through Friday, 9 a.m. to 5:30 p.m.
Learn more about vnCloud: