At its most basic level, the cloud represents a set of technologies that enable computing services (data, applications, software) to be delivered to end-users in real time via Internet. This "cloud computing" enables them to access these services instantly using any device with Internet access. The end-users can also provision these resources on demand via a computer network, rather than from a local computer. Basically, any computer connected to the Internet is connected to the same pool of computing power, applications, and files.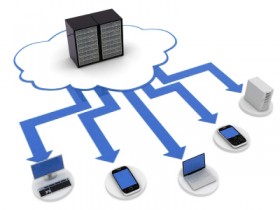 Cloud computing services are generally divided into three categories:
Infrastructure as a Service (IaaS)

In this most basic cloud service model, providers offer consumers on-demand usage of virtual resources from their large pools. Consumers choose IaaS to build, configure and control virtual machines and data centers.

Platforms as a Service (PaaS)

This refers to the computing platforms and solution stacks in which cloud vendors provide the networks, servers, storage, tools and libraries which are used by consumers to create, deploy and control software.

Software as a Service (IaaS)

In the SaaS model, consumers do not manage the infrastructure or platform, but instead access application software that is installed and operated by providers through the Internet.